At Embrace Orthodontics, we are committed to providing our patients with the latest technology and innovations in orthodontic care. That's why we are proud to offer iTero Digital Impressions as an alternative to traditional putty impressions.
iTero Digital Impressions provide a comfortable and non-invasive way to capture accurate digital scans of your teeth and gums. This state-of-the-art technology produces high-quality images that are comparable to watching HDTV over standard definition TV. These detailed scans are essential for effective treatment planning and orthodontic care, especially for patients undergoing treatment with Invisalign and clear aligners.
With iTero Digital Impressions, there is no need for unpleasant putty material traditionally associated with taking impressions. The iOC Scanner captures the contours of your teeth and gums, producing an accurate digital orthodontic scan in just minutes. This means less time in the chair and a more comfortable experience for you.
At Embrace Orthodontics, we are committed to providing our patients with the most advanced and comfortable orthodontic care possible. Contact us today to schedule your appointment and experience the benefits of iTero Digital Impressions for yourself!
The iTero handheld wand is a non-invasive tool that takes a digital 3D image of your prepared teeth, pausing as needed. You can breathe and swallow comfortably during the procedure, and if necessary, adjust your position since the handheld wand is highly accurate. The need for redoing impressions is rare. Additionally, you can view the 3D image of your teeth on the screen in real-time as the orthodontist scans your mouth.
Instead of mailing traditional impressions to the lab, the digital image of your teeth is transmitted electronically to the lab and is available in the Invisalign Clincheck system by the next day. This 3D model of your mouth can be used with all Invisalign services, including the Invisalign Outcome Simulator, which shows you a preview of what your new smile will look like after completing the treatment.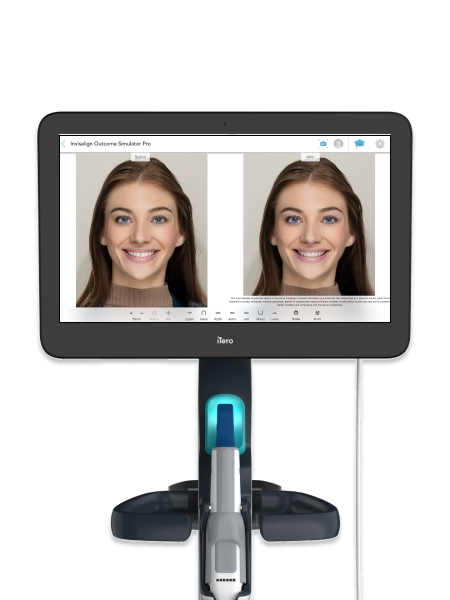 Benefits of Teeth Scanning
The iTero Digital system offers several benefits, including:
Elimination of putty impressions, which can be uncomfortable and unpleasant.
Superior accuracy compared to traditional impressions, as there is no distortion from patient movement during the scanning process.
Onscreen visualization, which allows for immediate adjustments to create an ideal orthodontic scan in real-time.
Single-use imaging shield to ensure maximum cleanliness and hygiene during the procedure.
The iTero network of general practitioners and orthodontists around the world collectively performs over 12,876,871 scans every year?2
It all goes to show that a seamless and productive workflow starts with iTero.